<!== Packaging Machinery ==> <!== Packaging Machinery ==>
Product Feeders and Elevators -
Product feeders and elevators are an important
component of packaging installations involving
multihead combination weighers and VFFS bagging
machines.
Typical installation my consist of Infeed conveyor
with loading hopper
Loading hopper with capacity of 180 liters or more,
partially or entirely made of stainless steel.
Bottom of the hopper featured with vibrating
pan to feed constantly the product on the
elevator belt.
Elevator conveyor belt with structure in
painted carbon steel or stainless steel and belt in
polyurethane, featured with preset pockets.
Side guides embodied in polyurethane.
Many different solutions are available to suit
specific requirement of various products and
production environments.
As an example:-
Feeding system
Stainless steel, wash down conveyor belt
Conveyor belt, "Flat belt type" in compliance
with FDA/USDA/FSIS/HACCPS directives in
order to receive the product from the output of
the freezing spiral and to delivery it on the cross
feeder of the multihead weighers.
Body entirely in Stainless steel AISI 304, no
lubrication, entirely wash down.
Complete turn-keys food processing and packaging solutions are available on request.
Please contact us on info@jzw.com.au to discuss your application.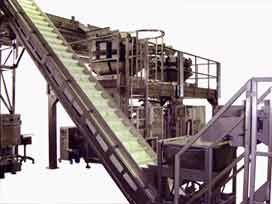 Stiavelli loading hopper connected to elevator and overhead conveyor feeding two multihead combination weighers and bagging machines.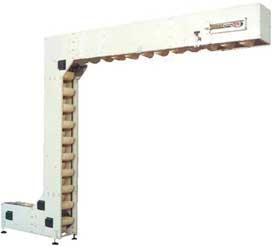 Stiavelli Z shaped elevator for long pasta.